David Sangster (1877 - 1917) was born at the farm of Midtown of Cruden, Aberdeenshire, the fifth child of George Sangster and Catherine Daniel. He probably attended Hatton school to the age of 14.

In 1905 (aged 28) he left Scotland with his sister Margaret and emigrated to Winnipeg, Canada, where he and his brothers were partners in the firm of Sangster Brothers., Carriage Builders.

In 1915 he was living with his sister Margaret and her 4 children at 137 Atlantic Avenue, Winnipeg. Margaret's husband, Alfred Ramsay, was serving with the armed forces in France.

He enlisted in the Canadian army in January 1916 (giving his birth date as 15 November 1878) and in November was sent to England on the SS Olympic. He joined the 46th Battalion, South Saskatchewan, in February 1917 and by April was serving as a stretcher bearer at Zouave Valley, Vimy.

While at Vimy, David Sangster lost a photograph of his

nephew and nieces given to him by his sister, Margaret. The photograph of the four children, complete with the name of a Winnipeg photographer, was found on the battlefield by a Private G A MacDonald who sent it to the Winnipeg Tribune in the hope that the newspaper could trace the photographer and return the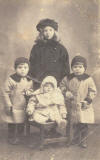 photograph to its owner. This the newspaper managed to do; a new copy of the photograph was sent to David Sangster in France and the original lost photograph is still in existence today.
The 'Lost' photograph.
L - R. Alfred, Kathleen (in front), Lillian, Margaret (right).
During the 3rd battle of Ypres (Passchendaele), in October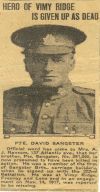 1917, David Sangster was posted as missing, presumed dead.
Report in the Winnipeg Tribune, May 23, 1918.

His memory is honoured at the Menin Gate.